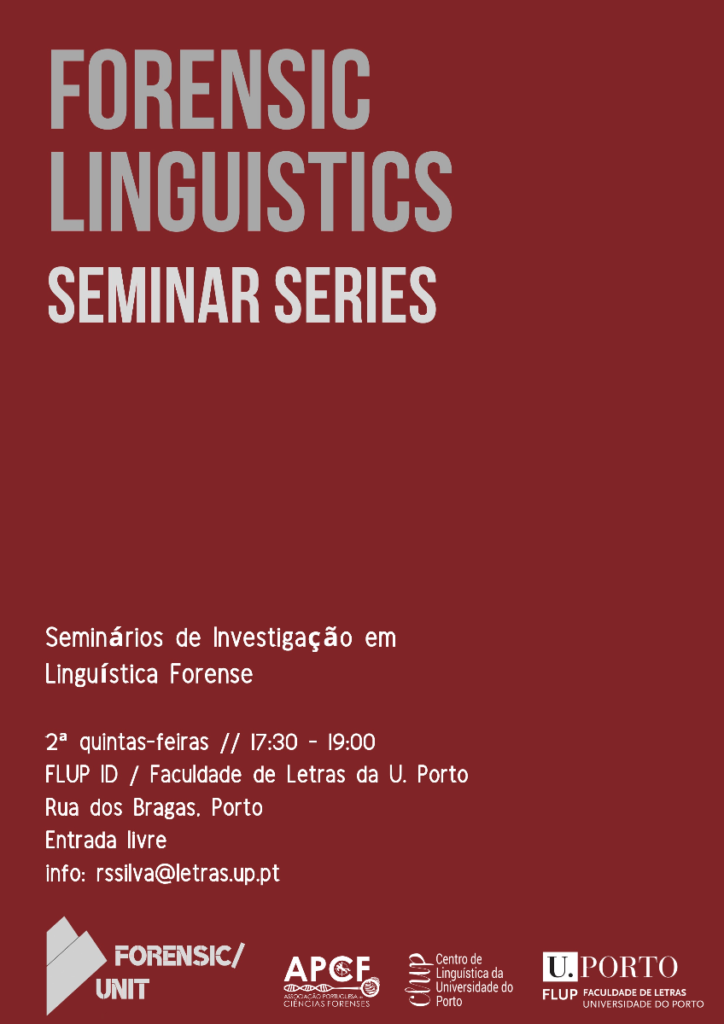 FL SEMINAR SERIES
"Something odd is going on": analysing the linguistics of faked contexts
– Dr Isabel Picornell –
Forensic/Unit hosts this month another webinar of the 2021 Forensic Linguistics Seminar series.
The invited speaker of the June webinar of the Forensic Linguistics Seminar Series is Dr Isabel Picornell, consultant forensic linguist and Director of QED Limited. Her talk, titled "Something odd is going on": analysing the linguistics of faked contexts, will be broadcast live on 24 June 2021, at 17:30 (Portuguese time/BST), via Zoom. The abstract can be found at the end of this message.
This webinar is part of the monthly Forensic Linguistics research seminars of the Faculty of Arts and Humanities of the University of Porto and the Forensic/Unit of the Linguistics Centre of the University of Porto. National and international speakers have so far presented their ongoing research into Forensic Linguistics in these seminars, which have been hosted monthly since 2019.
Attendance is free but registration is required. You can register by clicking this link.
We look forward to welcoming you to the June webinar!
Rui Sousa Silva
[PORTUGUÊS]
O Forensic/Unit prossegue este mês com mais um seminário de 2021 do seu programa de seminários de Linguística Forense.
Para o seminário de junho do Forensic Linguistics Seminar Series, mais uma vez em forma de webinar, convidamos a Doutora Isabel Picornell, consultora e perita em linguística forense e Diretora da QED Limited. O seminário, com o título "Something odd is going on": analysing the linguistics of faked contexts, decorrerá na quinta-feira, dia 24 de junho, às 17:30 (hora de Portugal/BST), através da plataforma Zoom. Poderá encontrar um resumo desta apresentação abaixo, no final deste email.
Este seminário encontra-se integrado no programa de seminários regulares de investigação em Linguística Forense da Faculdade de Letras da Universidade do Porto, no âmbito das atividades científicas do Forensic/Unit do Centro de Linguística da Universidade do Porto. Nestes seminários participam, para além de convidados nacionais e internacionais, docentes da Universidade do Porto, bem como estudantes de Mestrado e Doutoramento, com apresentação de trabalho em curso.
A assistência é livre, mas sujeita a inscrição. Para se inscrever, faça o seu registo neste link.
Contamos com a vossa presença.
Rui Sousa Silva
ABSTRACT // RESUMO
Language is tailored for the context in which it is produced and the audience for whom it is intended. Falsifying a communication creates a mismatch between the actual language of the communication and the language one would expect in a particular context. This can be identified using 'Audience Analysis', a new approach grounded in linguistic theory and developed specifically for fraud investigation.
INVITED SPEAKER // PALESTRANTE CONVIDADA
Isabel Picornell is a consultant forensic linguist and Director of QED Limited, providing forensic linguistic services to the corporate, investigative, and intelligence sectors. She holds a PhD in Forensic Linguistics from the Centre for Forensic Linguistics, Aston University (UK). Isabel is Vice President of the International Association of Forensic Linguists, a member of the Germanic Society for Forensic Linguistics, a certified fraud examiner with the Association of Certified Fraud Examiners, and a Visiting Research Fellow at the Aston Institute for Forensic Linguistics. Her academic research interest is in deception and authorship in faked contexts.